Curious About Chippenham Decking?
Swindon Decking Solutions are Chippenham and Wiltshire's leading decking specialists. We consult with our clients on the latest decking materials, design trends and installation for homes and gardens. We pride ourselves on offering a high value service at competitive rates. 
Consumer studies reveal decking has consistently grown in popularity. Consumers know decking is an investment that is proven to increase the value and marketability of your home.  It also serves as a hub for social gatherings and serves as a low maintenance solution for your garden. 
We Deliver & Build Timber Decking Throughout Wiltshire
Where do we work? Our staff distribute, design and build decking throughout the Swindon, Chippenham, Calne & greater Wiltshire region. Every so often we'll travel further at our discretion. Our clients include residential and corporate concerns who decking for family gardens as well as pubs and community settings.
From balustrades to deck boards, raised decks, lighting and pergolas we offer bespoke decking at competitive rates. So if you're looking for decking in Swindon & Wiltshire, call us today.
CALL US ON 07711581665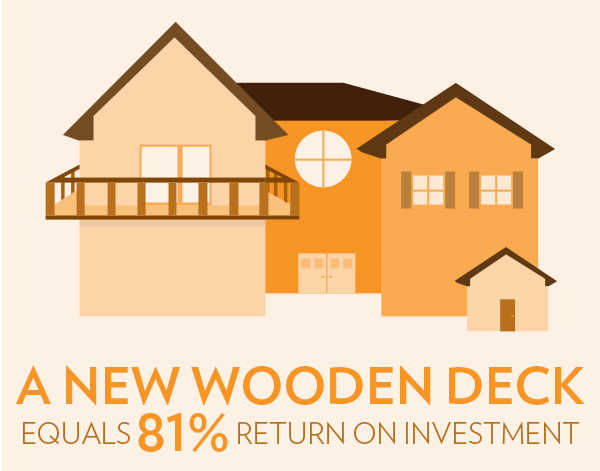 Your FAQ's
Can you outline the ROI of decking?
In various industry surveys wooden and composite rank among the top 10 investments to safeguard the value of your home. Remodeling magazine found wooden decking offered an 81% ROI.
Does decking require intensive maintenance?
Just as your lawn requires ongoing attention, decking does too. Deck maintenance is not intensive and our team will guide you through the best practices and local deck cleaning services if needed.
Which areas do the Swindon Decking team operate in?
We offer decking in Swindon, Chippenham, Trowbridge and the greater Wiltshire area. We occasionally work in South Gloucestershire and Bath at our discretion.
We didn't answer your question?
Check out our blog page for more FAQ's or contact us on the number below. 
CALL OUR TEAM ON
07711581665